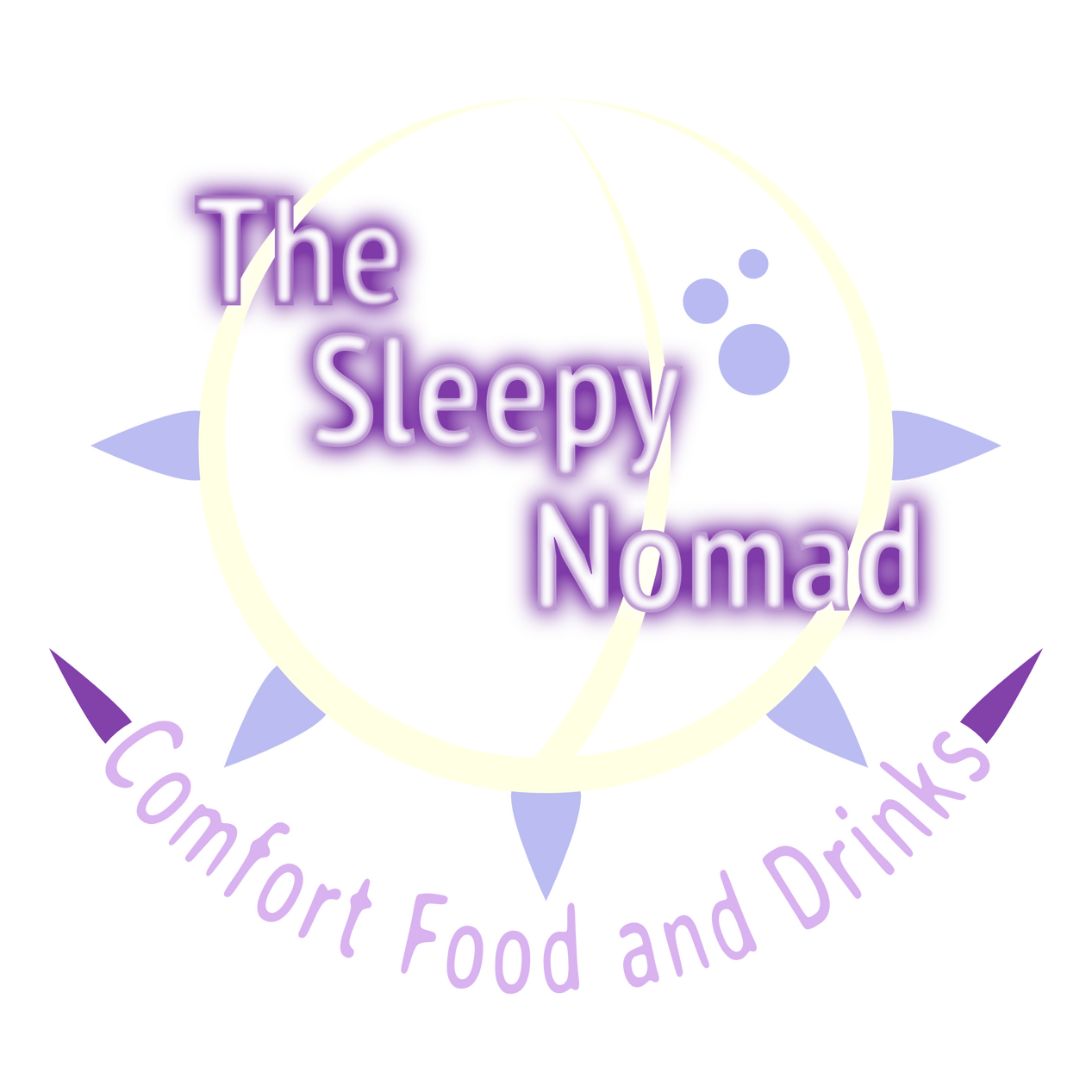 The Sleepy Nomad
Comfort Food and Drinks
"Come in and stay awhile."
OOC Stuff
Open every 2nd Thursday at 8PM ET. LGBT+ friendly space. Comfortably seats 13-17.

All gil amounts are IC and follow 100 gil = 1.00 USD; no OOC gil is required, but donations are appreciated.

Music can be listened to at https://cytu.be/r/SleepyNomad at your leisure when open.

To help ease in case of chat flow, please send a /tell to your server including designated symbol/call-sign (♠ [spade]/♦ [diamond]/♥ [heart]/♣ [club]). Please have /yell enabled for staff calls on occasion. Bar is NPC'd by staff with proper conduct when away or offline.

Please, no IC sabotage of any kind without consulting OOC beforehand. Either way, bouncers will attempt removing disruptions in a non-lethal manner first and foremost.

Cihto, Zihji'li's Topaz Carbuncle, is guarding the back office door. Don't try to go past them. Really, don't.

Interested in becoming part of staff? Feel free to contact Zihji'a Nhikna, Zihji'to Nhikna, or Zihji'li Nhikna, or pitch a message to sleepynomadcontact (at) gmail (dot) com with [QUERY] Staff? as the subject line.

As of 5.1, you can find the official Fellowship headed by Zihji'a Nhikna on Balmung under Roleplaying, Player Events, and Making Friends.

Any relations to people real or fictional is entirely coincidental, and The Sleepy Nomad does not condone any partaking of illegal activities or substances in real life. Drink responsibly.
Staff
Meet the staff! Here to serve, and make you feel at home.

From left to right:
Zihji'a Nhikna (Proprietor, Head Cook)
Zihji'to Nhikna (Cook, Server ♠), Zihji'li Nhikna (Server ♦), Alaria Moone (Server ♥)
P'xasa Tia (Server ♣, Bouncer [NPC]), P'khav Tia (Greeter, Bouncer [NPC])
Appetizers
Firecracker Miq'abobs—375 gil, 10 per
Thaumaturgically flame roasted to perfection. Your choice of complementary sauce and spiciness!*

Skewers
Auroch—Red-wine infused auroch sirloin, zucchini, Dzemael tomatoes, and red onion
Buffalo—Buffalo sirloin, wild onion, Garlean garlic, and ruby tomato
Chicken—Rosemary chicken, peach, La Noscean leek, morel
Dodo—Dodo tenderloin, ruby tomato, gil bun, wild onion
Fruit, Veg', n' Cheese—Melon, honeyed cucumber, jalapeño, cashew mozzarella
Lamb—Maple lamb tenderloin, rolanberry, rosemary, Dalamud popotoes, Gyr Abanian carrot
Raptor—Raptor, gil bun, chanterelle, La Noscean leek
Succulent 'n' Veggie—Honeyed aloe, button mushroom, nopales, ruby tomato

Spice Level
Mild (Shroud pepper), Moderate (Crimson pepper), Spicy (Dragon pepper), Hellskissed (Blood Pepper), Doomsent (Blackfire Pepper)

Sauces
Prickly Pineapple and Mango
Vegetable Medley
Lime and La Noscean Orange
Sweet Ginger
Tender Strips—350 gil, 6 per NEW!
Thick strips of dodo, chicken, or raptor ginger beer battered, fried to perfection, and coated in choice of seasoning blend, sauce at preferred spice level*, or plain (no judging)!

Ask for twice-fried and make it extra crispy! Paired with dipping sauce, and choice of celery and/or Gyr Abanian carrot sticks.

Seasoning Blend
Parmesan Cheese and Garlic
Lemon Pepper and Highland Parsley
Old Moraby Bay
Thavnairian Spice


Spice Level
Mild (Shroud pepper), Moderate (Crimson pepper), Spicy (Dragon pepper), Hellskissed (Blood Pepper), Doomsent (Blackfire Pepper)

Sauces
Prickly Pineapple and Mango
Vegetable Medley
Lime and La Noscean Orange
Sweet Ginger
Fruit Miq'abobs—230 gil, 6 per
Grilled pineapple, rolanberries, and mango accented with a hint of salt prior to enhance natural sweetness.
Swiphi's Delight—220 gil
Chilled, creamy sugar snap pea soup topped with morel cream and mint.
Roasted, Toasted Tomato Soup—200 gil
Roasted Dzemael tomato and toasted Lalafellin lentil soup milled to a velvety finish, and topped with sliced black truffle slices. Served with a thick slice of buttery rosemary bread.
Popoto Wedges—150 gil
Big plate of fried Dalamud popoto wedges, tossed in herb garlic pepper and sea salt. Served with choice of dipping sauce on the side.
Popoto Pretzels—130 gil
Guest snack from Carbuncle's Favor Confectionery. A big popoto bread pretzel baked with sweet and savoury goodness! Choice of plain, powdered sugar, or chocolate with sweet varieties.

Varieties
Savoury—
Cranberry and Cracked Peppercorn
Sesame Seed and Solstice Garlic
Sweet—
Chocolate
Peppermint
Baked Penne and Cheese—120 gil
Penne pasta in a creamy sauce blend of Parmesan and aldgoat cheeses topped with paprika and herb breadcrumb crust.
Artichoke and Leek Gratin—115 gil
Oven-broiled artichoke and leek mini casserole served with bubbling coconut milk cheese.
Lentils and Chestnuts—110 gil
Stew of Lalafellin lentils and Gridanian chestnuts slow-cooked in sour red wine for a classic, nostalgic taste.
* If choosing "Spicy," "Hellskissed," or "Doomsent," have a Miner Motes, 'shake, or smoothie, of your choice, on the house.
"Hellskissed" and "Doomsent" sauces are incredibly spicy. We mean it. Be absolutely certain you want to order it, and be ready to sign a liability waiver!
Drinks
Beverages
Mineral Water—Free
Wine—900 gil/glass; free refills 3 times, 180 gil after
Liquor—500 gil/glass; free refills 3 times, 100 gil after
Beer—300 gil/pint; free refills 3 times, 60 gil after
Shake or Smoothie—120 gil
Root Beer*—110 gil
"Faerie Beer" Ginger Beer—110 gil/bottle; 550 gil/case of 6
Hot Chocolate—110 gil
Coffee—110 gil
Tea—90 gil; 140 gil kettle/pitcher
Juice—65 gil
Pink/Lemonade—60 gil
Milk—40 gil
Lassi—20 gil
From the Bar—1100g/bottle
Qiqirn Firewater
Blackbelly Whiskey
Treehollow Brew
Dark Stout
Buscarron's Ale
Fullflower Mead
Rosa's Mead
Lowland White
Lohmani Rosso
Cherry Brandewine
Happy Hour
starts an
hour after opening!
30% off all alcohol!
Specialties
Sweet Corsair—530 gil
A delightful, hot buttered rum comprised of sweet cream butter, brown maple sugar, honey, vanilla, spices, La Noscean orange zest, golden apple cider, and a select rum aged between 12 and 18 turns. Garnished with an orange slice, whipped cream, nutmeg, and a cinnamon stick.
Prilho's Nightlight—140 gil
Prickly pineapple and loquat juice blend with chamomile tea accented with a hint of tonic water. Glows in the dark!
Eclipse Cocoa—130 gil
One of two guest drinks from Carbuncle's Favor Confectionery. Velvety white chocolate and vanilla bean cocoa topped with chocolate coconut whipped cream and beet sugar dust. Served in a commemorative zen smiling moon mug.
Moon Nectar—125 gil
One of two guest drinks from Carbuncle's Favor Confectionery. Shimmering mint and jasmine tea blend garnished with vanilla beet sugar droplets and a candied honey lemon slice.
Mihle's Settler—121 gil
Lemon and mint iced tea "spiked" with a bourbon taste without the alcohol!*
Prohmi's Toppler—120 gil
Brewed pearl roselle tea mixed with a generous splash of mirror apple punch.
Pejhin's Tonic—110 gil
A calming, bubbly soda blending peach and pearl ginger.
* Alcoholic variation available
Cocktails and other items "From the Bar" possibly available on request—just ask!
EntrÉes
Pizza Knot—430 gil NEW!
Large, tearable pizza knot stuffed with toppings and baked to a golden brown. Choice of topping variety, crust, and dipping sauce.

Toppings
Out to Port—Megalocrab meat, blueclaw shrimp, bluebell salmon, red onion, mozzarella
Meaty Meet-Up—Shredded Raptor, pepperoni, buffalo sausage, cyclops onion, buffalo milk cheese
Very Veg'—Cinderfoot olives, Dzemael tomatoes, cyclops onion, red onions, green peppers, coconut cheese

Crust
Regular—Sweet cream butter and parsley
Savoury—Solstice garlic, rosemary, butter, and parsley
Spicy—Crimson pepper flakes, dill, and sweet cream butter

Dipping Sauce
Spicy Tomato Relish
Solstice Garlic and Butter
Roasted Dzemael and Ruby Tomato w/ Solstice Garlic
Lime and Sweet Cream Butter
Ante' Steak and Popotos Skillet—300 gil
Charbroiled antelope steak with sauteed wild onion and a side of duchess popotoes topped with vegetable medley gravy.
Chili Bread Bowl—245 gil
Slow-cooked chili served in a big rice or popoto bread bowl and cookie spoon. Choice of chili and bread bowl/cookie spoon type.

Chili
Seafood—Megalocrab meat, blueclaw shrimp, Dzemael tomatoes, solstice garlic, millioncorn, cyclops onion, green peppers, and lime juice to taste.
Aldgoat—Ground aldgoat chuck, wild onion, Garlean garlic, ruby tomatoes, red bell peppers, sour cream, chives, and lime juice to taste.
Veggie—Mun-tuy beans, Dzemael tomatoes, Coerthan carrot, ramhorn zucchini, cyclops onion, Garlean garlic, and red and green peppers.

Bread Bowl
Regular
Savoury—Solstice garlic and Rosemary, sweet onion, and basil
Spicy—Crimson pepper and lime, shroud pepper, and dill
Nomad's Seafood Stew—230 gil
An ecletic take on seafood stew parsed from a tribal traveler's journal. Includes some of the usual staples with a roasted Dzemael tomato base plus megalocrab, and trades the blueclaw shrimp for nail shrimp.
Curry Buns—220 gil, 3 buns ea.
Plump rice buns filled with curry of your choice, and fried for a crunchy outside!
Chicken
Flame-roasted chicken, pearl ginger, wild onion, and solstice garlic paired with a sauce blend of chicken broth, pureed tofu, olive oil, soymilk, and spices.
Fish
Chunked giant bass stewed in a thick sauce of vegetable stock, ruby tomato, Steppe onion, and roasted curry paste.
Fruit
Cloud banana, prickly pineapple, mirror apple, coconut, and coconut milk.
Veggie
Alpine parsnip, Coerthan carrot, pearl ginger, Dalamud popoto, cyclops onion, solstice garlic, jade peas, and grated golden apple.
Aldgoat
Spice blend marinated aldgoat chunks, Garlean garlic, pearl ginger paste, wild onion, and chopped peppers.
Loaded Pancakes—175 gil
Buttermilk pancakes either plain or filled with sweet or savoury choices, and topped with maple syrup and/or powdered beet sugar.
Personal Pot Pie—150 gil
A chicken pot pie serving aplenty set for one alongside thick, candied sweet popoto medallions, and buttery solstice garlic bread slices.
Desserts
Graciously provided by Carbuncle's Favor Confectionery
Cream Puffs—190 gil, 2 per
Crispy outside, soft inside! Choice of cream puff flavour
vanillachocolate [white or dark]rolanberry
with or without whipped icing
vanillaalmond creamhoney creamchocolate [white, dark, or milk]mint cream
All Smiles n' Snickers—160g per slice; 1280g per cake
Snickerdoodle reimagined as a cheesecake, complete with sugar cookie crust and cinnamon sugar powder. Rimmed with whipped cream rosettes and snickerdoodle cookie shard.
Enjoy by the slice, or share the grins with an entire cake (generously pre-sliced for 10)!
Lock and Key Cake—160 gil per slice
Lush, moist cake highlighting a blend of chocolate and jhammel ginger, covered in a dark chocolate ganache and sprinkled with chopped crystallized ginger.
S'more to Love—160 gil per slice; 1280 gil per cake
A cake blending chocolate divinity 'twixt graham crackers and rolled cinnamony goodness, topped with a golden, fluffmallow crown. Enjoy by the slice, or share the love with an entire cake (generously pre sliced for 10)!
Enlii's Jubilee—150 gil per slice
A sinfully light, lime angel food cake. Topped with a candied lime slice.
Apple Boulders—120 gil per 4
Large, rice flour mirror apple spice doughnut holes! Choice of three powdered varieties:
Gingerbread Beet SugarDark ChocolateVanilla Beet Sugar
"Sihn"namon Roll—120 gil
Large pumpkin roll with cayenne laced cinnamon filling and topped with a spicy, dark chocolate glaze. Not for the faint of taste buds.
Miner Motes—100 gil per 8-onzes
Frozen ice cream dots that keep for longer, but melts on your tongue! Served with mild, sweet cookie cups and spoons.
ChocolateRolanberryVanillaRoot BeerFireside Memories (dark chocolate, cinnamon, faerie apple, and fluffmallow)Dessert for Breakfast (maple, orange cream, and coconut pancake)Heat Retreat (mint, coconut, lime, and passionfruit)Harvest Musings (ogre pumpkin, vanilla, spice cream, mirror apple); served with commemorative maple cookie cups and spoons!